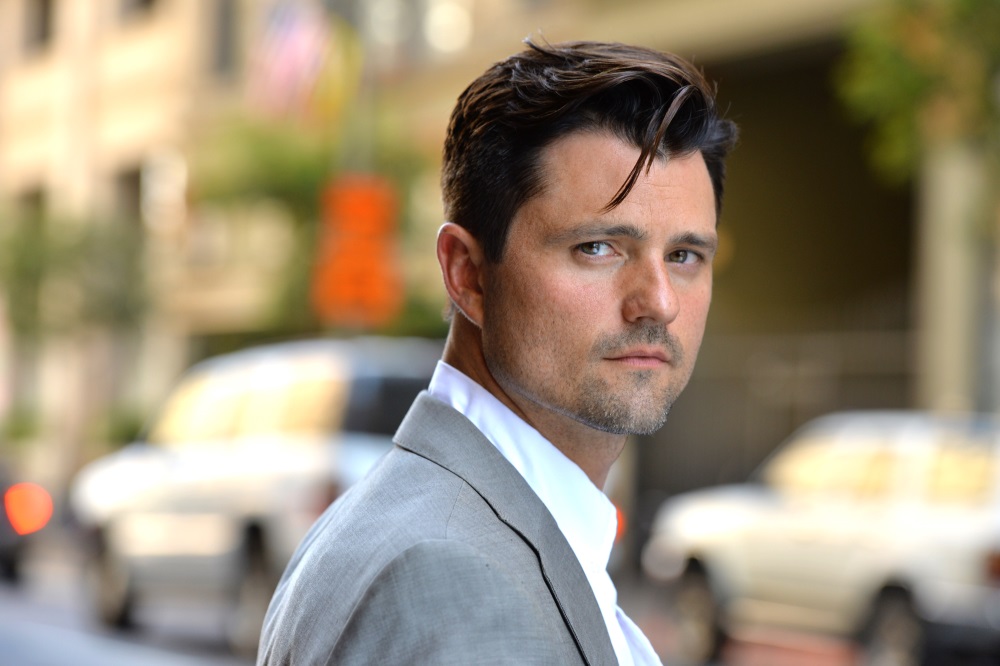 Growing up in Tomball (Houston), Texas, Chad was a baseball and football jock who planned to be a lawyer after school. But a friend's dare to audition for the high school play changed those plans and he was cast as the lead in The Nerd. After high school, Chad headed to Sam Houston State University on a musical theatre scholarship. On top of his conservatory style training there, he landed roles in an independent film, a few commercials, and an episode of "Walker, Texas Ranger." A year and a half later, Chad decided to attack a much bigger challenge … Hollywood – even if it meant sleeping in his car.
HOLLYWOOD
In less than a year, Chad landed guest-starring roles on episodes of JAG, Malcolm in the Middle, MTV Undressed, Days of Our Lives and Chicken Soup for the Soul. Confirmation that Chad could make it in Hollywood came when ABC cast Chad as "Zander Smith" for what was originally to be a six-week stint on the daytime drama, General Hospital. Soon after ABC offered Chad a long-term contract and in 2001, Chad received the Soap Opera Digest award for Outstanding Male Newcomer. In 2003, he was nominated for a Daytime Emmy for Outstanding Younger Actor. Then, in 2004 he was nominated again and WON a Daytime Emmy for Outstanding Younger Actor. After four years on General Hospital, Chad left and soon after he guest-starred on Friday Night Lights, playing "Lucas Mize" in the "Homecoming" episode. He also guest-starred on episodes of Cold Case as "Skiz" and had fun yellowing his teeth for Deadwood. You may have seen Chad be seduced by Emma Watson (wink, wink) in The Bling Ring, directed by Sofia Coppola. He was in a sitcom pilot called "Open Carrie" with Wayne Brady, produced and directed by Aaron Shure (writer producer of "The Office" and "Everybody Loves Raymond". You may have seen him as Ryan "Ryan Archer" on CSI: Crime Scene Investigation. He can be seen in theatres now in Slamma Jamma.
VOICEOVER
Chad Brannon splashed onto the voiceover scene in 2006 and quickly became one of the main promo voices for FOX (most recently) as the voice of "Bones", "American Idol", "Cosmos: A Spacetime Odyssey", "Animation Domination" including "Family Guy," "The Simpsons," "The Cleveland Show," "American Dad," "Bob's Burgers," "Glee," "New Girl," "Raising Hope," "American Idol," and "The Teen Choice Awards."
He is also one of the signature voices on CBS, where he promos TV's #1 new hit of last year "NCIS: New Orleans" and TV's #1 show, "NCIS" and "MacGyver", "Let's Make a Deal", "The Price is Right", and "The Bold and The Beautiful". He is also the voice of the History Channel voicing all of their over 80 hit shows, including "Vikings", "The Bible", "Houdini", "Texas Rising", "Pawn Stars", and "American Pickers". This last season he was the voice of basketball on the SEC ESPN network.
He is also on national commercial campaigns for Zales, Mazda and DXL. He has also voiced promo or narration for ABC, Warner Brothers TV, ESPN, National Geographic, History Channel, SyFy, Travel Channel, G4 and has voiced commercial campaigns for Jack Link's Beef Jerky, DXL, Whole Foods, Del Taco and was "The Merman" in Diet Dr. Pepper ads, as well as portrayed Tolten in the video game Lost Odyssey.
REAL LIFE
Chad is married to his beautiful wife, Carly and has 3 boys and a little girl, and yes, Chad's wife is totally sane. He loves barbeque, attempting to be healthy, and their Airdale Goldie.